May 11th is national "Eat What You Want Day," so while we don't need a special day to consume whatever we want, we could use any excuse to enjoy a chocolate delight!
It turns out that the Detroit area is an exciting place to eat all kinds of chocolatey treats, so we've taken it upon ourselves to find the absolute best places to indulge. Keep scrolling to see our taste-tested spots in and around Detroit, from the Choco Town Experience in Troy to decadent locations downtown to enjoy all kinds of sweet treats.
If you've ever dreamed of stepping into a luxurious world of chocolate, now you can in Troy! This unique-and-delicious Choco Town experience, just outside of Detroit, has countless photo ops and the chance to actually taste many different kinds of chocolate throughout. But, with all good things, it will not be there forever. Celebrate Mother's Day with 20% off your next visit to the delicious chocolate village of Choco Town by using code CHOCO20MOTHERSDAY at checkout until Monday, May 15th!
🍫This temporary sweet adventure is leaving town on June 11th, so grab your tickets now! 
Location: Oakland Mall, 412 W. 14 Mile Rd, Troy, MI 48083
View this post on Instagram

Bon Bon Bon is a specialty shop in the heart of Detroit that creates artisan chocolate at their local Hamtramck factory. They have several locations in Detroit, as well as Ann Arbor. You can also pick up some goodies at the Ferndale Rust Belt Market during weekends, and on Saturdays at the Eastern Market Shed 5, along with flowers and veggies. If you're not local, scoop up treats online like the Bon Flight Quartet, Birth-yay Bons, Bons de Blanc, and more!  
📍Detroit Locations: 
Midtown: 441 Canfield, Suite 12, Detroit, MI 48201
Downtown Detroit: 1435 Farmer Street, Suite 120, Detroit, MI 48226
View this post on Instagram
Quix Chocolate is a Ferndale shop that we can't help but notice! It's located just outside of Detroit and specializes in artisanal Belgian chocolate. The company was initially founded in Lanklaar, Belgium in 1949, and is now keeping this tradition alive right here in Michigan. There are so many delicious choices, but we love The DIY, a crispy praline topped with cream, or the tiramisu with whipped cream, espresso, amaretto with dark chocolate.

📍Location: 221 W. Troy Street #200, Ferndale, MI 48220
View this post on Instagram
The Teftis family started the Astoria Pastry Shop in the Greektown area of Detroit in 1971 and haven't looked back since! The family-run company still has its sweet shop in Greektown and a location in Royal Oak, producing over 100 confections daily, like European pastries, from the chocolate cannoli to the eclair, an assortment of chocolate bars and brownies, and more! 
📍Locations: 
541 Monroe Street, Detroit, MI 48226
320 S. Main Street, Royal Oak, MI
View this post on Instagram
The Chocolate Bar Café is a historic spot in Grosse Pointe Woods, just 15 minutes outside of Detroit, that began its delicious story 100 years ago, keeping up the tradition today. This charming shop serves up scrumptious Detroit-made Guernsey Farms Ice Cream, fresh pastries, yummy cakes, cupcakes, and coffee.

📍Location: 20737 Mack Avenue, Grosse Pointe Woods, MI
This family-owned chocolate shop in Dearborn specializes in 20 different types of chocolate they import from Lebanon so that you will find something for every taste.
📍Location: 15010 West Warren Avenue, Suite 114, Dearborn
View this post on Instagram
Head to Birmingham Chocolate in Ferndale if you're looking for the handcrafted variety. They specialize in bonbons so that you can indulge in truffles, creams, caramels, and clusters, as well as their signature gourmet bonbons called Wow!Cacao. Their bars are another specialty, including Classics, Decadence, KetoBars, and Keto!Lite. Enjoy treats like chocolate-covered pretzels, almonds, and turtles, too!

📍Location: 1260 Woodward Heights, Ferndale, Michigan
Birmingham's Blue Canary Confections is a delicious bakery featuring innovative chocolates, bread, bonbons, candies, pastries, and more. Items are made fresh daily, and you can tell with every bite!
📍Location: 124 W. 14 Mile Road, Birmingham, Michigan
Step into Choco Town, a jaw-dropping village of chocolate and sweets with plenty of instagrammable moments and delicious samples throughout!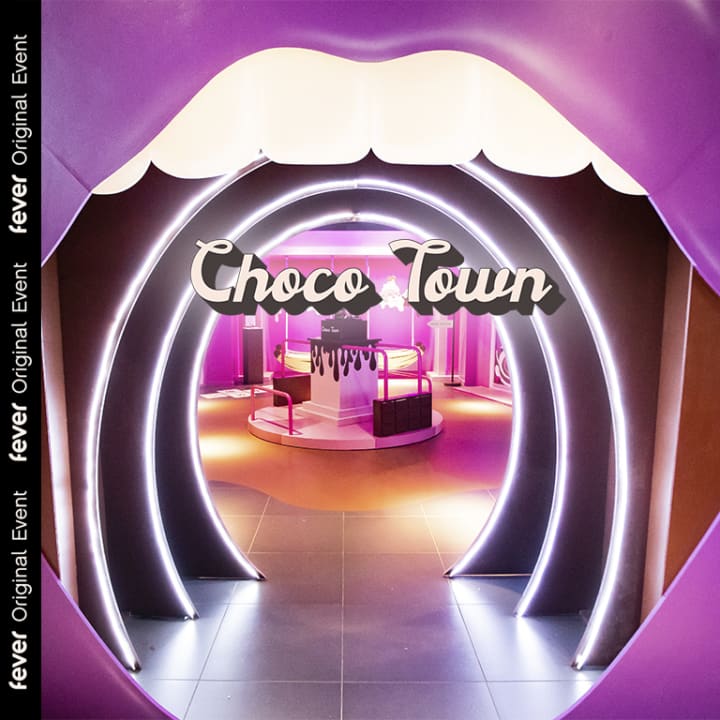 Choco Town: An Immersive Journey Into a Sweet Town
---